Different Types of Braces
For many people, regardless of age, having braces can be a daunting process. With all of the teeth straightening options on the market, and all of the different types of people who need braces, deciding on what style or approach to take can be confusing and overwhelming. In order to help with that process, Dr. Jacobson has compiled an easily referenced list of options to help relieve some of the turmoil.
Modern dentistry has evolved up to that point that nowadays industry standard is delivering that famous Hollywood smile to any patient at affordable price. Los Angeles region as a nearby destination offers large amounts of dental specialists that are capable of transforming smiles. When talking about smile reconstruction we always think about crowns, veneers, whitening, but there are some situations like crooked or badly positioned teeth where it's best to straighten them prior to any aesthetical work. For that kind of interventions, an orthodontist is a go-to specialist.
Orthodontics is a part of dentistry that deals with teeth and jaw malposition and their respective alignment. It is a very complex area of expertise because it deals not only with aesthetic but with the functionality of the oral system. Specializes especially on the proper balance between teeth and surrounding facial muscles. The two major things that can improve patients oral, general health and boost confidence at the same time.
When talking about cosmetic adjustments it is usually referred to straightening teeth out, spreading crowded teeth, or closing spaces between them. While open bite, overbite and crossed bite are variations of dysfunctionalities, thus are more complex than teeth misalignment. They require more attention, knowledge and time involved. What both of these mishaps have in common is their impact on the patient's self-confidence. Self-confidence is a major component of general well-being. Orthodontic therapy can be performed with multiple devices, appliances, especially in pediatric cases, but when patients are over 16 years old specialists usually resort to braces.
Traditional Metal Braces
When you hear the words braces first thing that comes to mind is traditional metal ones. Famously known for their "metal" appearance and low aesthetic values, they were around for a very long time. As a matter of fact, they still are due to their price and the fact that they do an excellent job. For the time being, they inspired dentists to come up with braces that are more aesthetically pleasing, thus why today we have lingual, ceramics and Invisalign braces. During that time the evolution of metal braces themselves was minor, it was based on implementing stronger materials and smaller brackets.
Metal braces are made from high-grade stainless steel or in some cases titanium, and they consist of three parts. First of all brackets, then archwires and rubber bands also called ligatures. Brackets are square-shaped elements that are fixed onto the teeth, on the side placed towards the lips and cheeks. Their function is to hold the archwire.
An archwire is a thin metal wire that connects the bracket and believes it or not, it is doing all the work, the whole teeth shifting process is based on the archwire. Archwires come in various sizes regarding thickness. Each "caliber" has its purpose. Treatments usually start with the thinnest ones.
Once archwires are placed onto the brackets they transfer their elastic force directly to the teeth. That force gradually shifts the teeth in a given direction at the desired pace. If these forces are strong it results in faster movement and quicker rearranging, but at the same time, it is very aggressive and bad for the supporting tissues, gums, and bones. That is why it is best to take your time, start with thinner wire and smaller forces. This is the safest way, securing to reach desired therapy effect with the least amount of complications. Rubber bands, called ligatures, have solely one purpose and that is to hold archwires on brackets. Made out of rubber as the name says, simple circle shaped and elastic. There are a variety of colors to choose from, to help to break that greyness of the brace itself.
One of the key points is durability. They are the strongest option amongst braces, very solid and difficult to break or chip. Most affordable ones but at the same time they don't come off short with the result. Although not considered appealing, but on the positive side – they are very hard to stain, unlike ceramic braces for example. Wearing braces comes with some difficulties, for example, discomfort while wearing during low temperatures in winter seasons. The metallic flavor is a thing, it comes from saliva interaction with braces. First few weeks are hard for the surrounding tissues, sore cheeks and tongue are normal to expect.
As an industry's standard here in Orthodontist Los Angeles, traditional metal braces are a great reliable solution for any orthodontic problem at an affordable price.
Lingual Braces

Lingual braces are the least visible type of braces. As the name says, lingual braces are placed onto the lingual surfaces of the teeth, which makes them practically invisible. A great solution for many people, especially business people that do a lot of presentations, meetings, as well as celebrities, athletes, etc. Not to forget musicians and actors, that use their vocal abilities most, and lingual braces not just invisible, they are easiest to adapt to.
They consist of the same components regular braces do, the main difference being just the side of teeth array is placed on. Having braces on the inside takes some extra getting used to. Usually custom made for each patient because lingual surfaces are distinct. To make that perfect fit, the dentist needs to take an impression. Later on, braces are fabricated in a laboratory which offers few choices, even gold!
Unfortunately, not every patient is a good candidate for lingual braces. Gum problems, issues with biting and small lingual surfaces are the most common contraindication for lingual braces. Patients who have those issues are advised to consider other types of braces.
Regarding functionality, bracket and wires are still the main components. Placed onto teeth lingual surfaces they are applying a force that rearranges. There are some advantages and shortcomings for this type of braces that need to be mentioned. On the positive side, lingual braces are a highly aesthetical appliance, perfect for people that require that feature. Practically invisible. On the other hand, there are some drawbacks as well. As we mentioned before, some patients are not suitable for them. Period of accommodation is fairly short, but it is proven a bit tricky for the tongue to adapt to crowded space and pointy brackets.
There has to be a special mention of the oral hygiene topic. Every type of braces has the ability to retain food but this one especially. Because of the position, it is a lot harder to clean thus having food residue can easily turn into plaque. Plaque and low oral hygiene lead to decay, cavities and gum inflammation. One more thing that has to do with the position of lingual braces is the amount of force they allow during therapy. Pure physics states that inward position doesn't allow strong forces to be used, making therapy with those braces last a bit longer.
Lingual braces are the best option for people who fulfill the requirements for wearing such appliances and at the same time don't want to show that is going through treatment. Orthodontic Center Los Angeles can help you.
Self Ligating Braces

Self-ligating braces, or commonly known as Damon braces are a variation of regular metal braces, the difference being in the absence of ligatures. Metal braces consist of three parts, brackets, archwire, and ligatures, while self-ligating only of two, they are ligatures free. Traditional metal, lingual or ceramic braces have their archwire held in place with elastic ligatures while self-ligating braces are equipped with brackets that don't require ligatures.
There are two types of brackets, active and passive.
Active brackets have a small spring loaded "doors" that hold the archwire, while passive ones don't have that spring. Passive ones are manually operated by the orthodontist. Passive brackets are smaller, and they provide housing for smaller wires, thus they are usually used at the beginning of treatment. Smaller wires apply less force, which is recommended when starting any braces therapy.
Maintaining oral hygiene is proven to be difficult when having appliances inside the mouth, but the fewer the parts make it easier to clean. Ligatures are the ideal place for remained food and plaque to collect, and with that out of the picture, this type of braces are much easier to maintain.
The main advantage of self-ligating braces is the treatment time, and due to physics, it is fairly reduced. Archwires shift the teeth to desired position much faster once ligatures are out of the way because the whole force that they generate is directly applied onto teeth. There is no dispersing on elastic ligatures. It is noticed that they reduce an average of 6 months of therapy time. Interesting point of view is that once there are no ligatures to adjust and replace, visits during treatment are reduced and time between them is prolonged.
Although being visually similar to the common eye, self-ligating braces are not the same as traditional metal ones. Small details like a lack of ligatures can have a positive effect on oral hygiene and health, improve quality of life and reduce visits while on therapy and shorten it as well. Some of the terms describing self-ligating braces are Smart Brackets and Damon braces. On the other hand, self-ligating braces have similarities with traditional braces. Advancements in technology and materials are giving new horizons, possibilities of making them out of ceramics and glass-like materials. Not to be ignored, they can be placed like lingual ones, on the inner portion of the teeth, oriented to the tongue.
Self-ligating braces are the perfect option with little extra cost over traditional braces, providing the same effect for shorter therapy time. Orthodontist in Los Angeles will serve you right.
Clear (Ceramic) Braces
Ceramic braces are more aesthetically pleasing than traditional metal ones. Although not completely transparent, they are manufactured in various shades which makes blending with the teeth highly efficient. In some case, they seem barely visible. Obviously, that makes them very popular amongst young adults as well as the adults themselves. Functionally and mechanically speaking, ceramic braces work in the same way as metal ones do. Their power lies on the archwire and its ability to apply force onto the teeth, shifting them into desired and carefully planned place.
On the other hand, brackets retain the same role as well. This time they are made from ceramics or glass-like materials that provide high aesthetical values to the whole construction. Light and color translucency provided by those materials are helping them blend in as much as possible. Unlike metal ones, ceramic brackets have their shortcomings. Because of the materials, they are made of they are susceptible to chipping and breaking more easily than metal ones. Not only that, but they are also prone to stains. When having ceramics braces patients need to take care and needless to say – having good oral hygiene is a must.
In terms of finances, ceramic braces are positioned in a higher price range than metal ones. It is all due to the cost of the materials used. That is why, not so rarely, many patients go for a mixed combination of two– ceramic brace for the upper teeth and regular metal ones for lower, less visible teeth. A solution that is not that much expensive but aesthetically pleasing.
Another fancy gimmick used in combination with ceramic braces is frosted archwire. Since brackets are already matching the color of teeth, archwire can be glazed in order to mimic the effect. This is a custom feature, not that popular though, which utilizes the whole camouflage effect of the ceramic brackets. Once everything is it submitted to the aesthetics there shouldn't be a metal bar across the teeth colored brackets.
As a conclusion of the above text, ceramic braces are an aesthetic orthodontic appliance capable of performing and achieving the same results as the traditional metal ones. Because they are not as mechanically solid as metal ones, forces applied to them during therapy are a bit smaller, this gently prolonging therapy time. Other than that, a great solution for people who want their therapy to be less noticeable. Orthodontic Center LA  will provide you the famous Hollywood smile.
Braces Specialist in Los Angeles
Today there are many adults who desire straighter teeth and they are wearing braces too. Orthodontics can help people of any age align that perfect smile. Braces are made from metal, ceramics or even gold, in different colors and different placement, on the outer or inner side of tooth arch. Used as a standard for many decades, they are not only good for misaligned teeth but in resolving some jaw related issues as well. Although a good fit, they require some time to get used to. Whether or not they are made out of metal or ceramics, it takes time for oral tissues to adapt. Tongue and cheeks especially. They tend to be sore for the first couple of weeks from all that friction with braces. Certainly not a pleasant experience but it goes away after a quick period of time.
Oral hygiene while having braces is an entity on its own. Very difficult to achieve good oral hygiene at the beginning of therapy, only after some practice patients start to get it right. It takes lot more time because of all of those small parts, food gets easily stuck and won't come out of its own. Other than brush and floss, the interdental brush comes in handy pretty often. It is important for a patient to understand that this is imperative because remaining food can cause decay, cavities, gum inflammation and prolong time with braces on. This is just an unnecessary risk.
Visibility of braces comes up as a very important feature for some patients. They range from clearly visible (metal ones) to less visible (ceramic ones) and invisible (lingual ones). Patients that are not concerned with visibility are usually interested in technical features that proposed braces provide. While at the same time, patients who find aesthetic an imperative are offered various solutions, each of them coming with a price to choose from. Metal braces are the cheapest ones, while others cost a bit more depending on the type and materials used.
Having orthodontic therapy doesn't imply that it always has to be noticeable. One common thing for any type of braces, including Invisalign aligners, are after therapy retainers. As the name suggests, they ensure that the therapy result remains unchanged.
Teeth Braces Cost
Financial aspect should never be ignored, but there is no simple answer to this question since there are a lot of factors involved in the whole process. For example complexity of therapy, type of braces that are going to be used, its components. Duration of treatment and number of visits required, previous work and the status of dental clinic and orthodontist's qualification can have some impact too.
The best thing to do is to schedule an appointment and discuss the overall cost for your individual case. You don't need to live in Hollywood or Los Angeles to have that famous Hollywood smile!
Will braces have a negative effect on my lifestyle or appearance?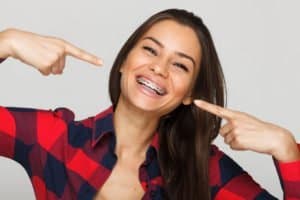 Today, braces come in a variety of styles, materials, and colors that can complement your unique style or appearance.
How long before I can have them removed?
There are three important factors to consider when trying to determine how long you will need to wear braces:
Early Treatment: The sooner Dr. Jacobson can work on the orthodontic issue, the more expedient the resolution will be.
Extent of Correction: The amount of work is a significant variable in how long the treatment will take. Additionally, every patient reacts to treatment differently, which may mean that one patient may need 12 months, while another may need 16 or even 24.
Your Commitment: Taking care of your braces and appliances and making sure to be diligent about follow-up appointments and oral hygiene will all factor into your total treatment time. Make sure you are following all recommendations made by Dr. Jacobson to ensure that you are minimizing the amount of time it takes to give you the smile you have always wanted.
Do Braces hurt?
It is painless to have braces fitted, however, the majority of patients experience discomfort 4-6 hours later, when the teeth begin moving. This usually peaks at the 24 hour mark, after which the discomfort subsides.
At Orthodontic Center LA we are committed to reducing discomfort. You will be reassured to know that Colin lectures internationally on the topic of pain management in orthodontics.
When are braces used?
Braces are usually used as they are the most precise and effective way to straighten teeth. Some problems can be treated with simpler or alternative devices such as removable plates. An orthodontist will be able to advise what is most suitable for your child.
How often do I need to have my braces adjusted?
Adjustment visits, once braces are in place, are short appointments that occur 3 to 8 weeks apart.
What options are available?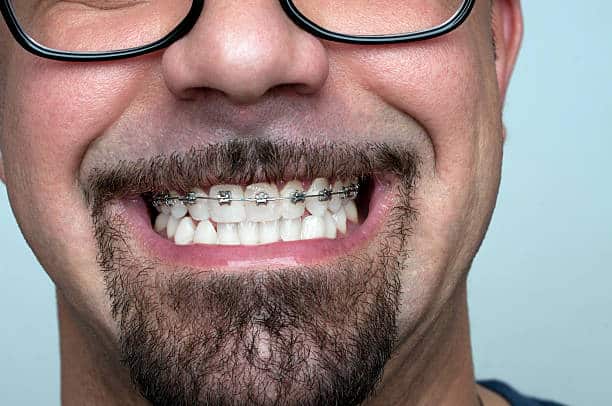 Here is a short list of the available options:
Ceramic
Invisible
Lingual
Traditional Metal