TMJ Specialist Los Angeles
Top TMJ Specialist in Los Angeles
There are two parts on either side of the jaw, referred to as the temporomandibular joints. These joints function as a sliding hinge connecting the jawbone to the skull. When a patient experiences an issue with this part of the jaw, there can be pain or tenderness in either or both jaw joints, aching pain in or around the ear, headaches or migraines, difficult or painful chewing, aching facial pain, or locking of the joint.
Candidates
Anyone experiencing any of the previous symptoms is likely a candidate for TMJ disorder treatment. It is often difficult to determine the exact cause of TMJ disorder, but factors like genetics, arthritis, jaw injury, and previous jaw surgery may all play a part.
Treatment
Treatment for TMJ disorder can range vastly depending on the causes and severity of your condition. For minor conditions, short-term, anti-inflammatory drugs may be prescribed to ease pain and relax muscles. Split therapy and stress management are also options that may be explored.
Once non-surgical options have proven unsuccessful or if there is clear joint damage, then surgery may be proposed to repair the damaged tissue.
Benefits
If the condition can be managed through non-surgical methods, then there is no recovery time, procedure risks, or other concerns associated with surgeries. Any pain, discomfort, aching, or locking will likely be remedied.
What Is TMJ Disorder?
Your temporomandibular joint (TMJ) is the joint that connects your lower jaw to your skull. Problems with this joint are known as TMJ disorder (TMD). This disorder can interfere with everyday life and cause patients pain and discomfort. TMD is most common in patients between the ages of 20 and 40, and women tend to be more affected than men.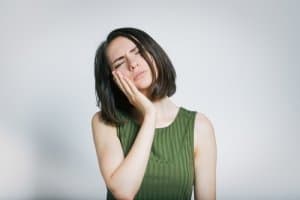 Symptoms and Causes
There are several causes of TMJ disorder, including jaw injury, chronic grinding of the teeth, and arthritis. It is also believed that issues with the jaw muscles can cause TMJ disorder. Some of the symptoms of TMJ disorder include:
Tenderness or pain in the face, jaw, neck, shoulders, and in or around the ear; especially when speaking or chewing
Difficulty opening the mouth wide
Jaw "locks" or gets stuck
Headaches or toothaches
Fatigue in the facial muscles
Ringing in the ears or hearing problems
Swelling on one or both sides of the face
Your orthodontist will do a physical examination to rule out any other causes of your jaw pain. You may need to have an X-ray or MRI done to pinpoint the source of your issues.
How TMJ Surgery Can Help
There are several options for treating TMJ disorder. The type of treatment depends on the severity of the disorder. If less invasive treatments such as night guards or dental work do not remedy the problem, your orthodontist may recommend surgery. Three surgical methods can be used to correct TMJ disorder.
Arthrocentesis
Arthrocentesis is a procedure that your dentist can do in his office if you do not have a history of TMJ disorder but your jaw tends to stick. It is performed under general anesthesia. Needles are inserted into the joint, and the joint is cleaned out using a tool to remove damaged tissue, dislodge a stuck joint disc, or to unstick the joint itself.
Arthroscopy
Arthroscopy is done using an arthroscope, a tool that uses a small camera to inspect the joints. This procedure is also done under general anesthesia. A small incision is made in front of your ear, and the arthroscope is inserted into the joint. Using a video screen, your surgeon will remove inflamed tissue and realign the joint if necessary. This procedure is minimally invasive and, therefore, has a lower risk of complications. It will leave a small scar but requires less recovery time than major surgery.
Open-Joint Surgery
Open-joint surgery is done when arthrocentesis or arthroscopy is not enough to treat severe jaw issues. Open-joint surgery may be necessary if:
The bones in your jaw joint are being worn away
The jaw joint has scarring or is being hindered by bone chips
There are tumors in or around the joint
This procedure is also performed under general anesthesia. The area is opened up to allow your doctor access to the joint. Recovery time is longer for open-joint surgery, and there is a higher risk of nerve injuries or scarring.
If you are struggling with jaw pain or having difficulty chewing and speaking, schedule a consultation with us today at (310) 454-0317.
Frequently Asked Questions
Can I feel symptoms of TMJ disorder in both sides of my jaw?
It is possible to feel pain, aching, or discomfort in one or both of the jaw joints.
What are the risk factors for having TMJ disorder?
A variety of factors have a role in the development of TMJ disorder, including long-term (chronic) teeth grinding or clenching, various types of arthritis (such as rheumatoid arthritis and osteoarthritis), certain connective tissue diseases, and previous jaw injuries.
What are the surgical options for TMJ treatment?
Typically, non-surgical treatments will be prioritized over surgical options. However, once non-surgical options have proven unsuccessful, jaw surgery or minimally invasive options such as arthrocentesis, arthroscopy, or modified condylotomy may be considered.